so in honor of TIBT, you know-- take it back tuesday, i'm going to let you all in on my past super duper hairdos.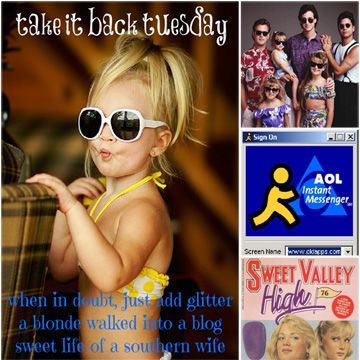 i know you are just as thrilled to be reading this as i am to be sharing these embarassing photos
(well most of them are anyway).
up first: me when i was a teeny tiny little tator-tot. look at those bangs. so presh.
second: me last night.
how disturbing! i'm not even wearing nail polish!
now may I present to you:
Hairy Situations! by LO
oh my, how times have changed. average age of LO in these pictures, combined: 21
Top Left: doesn't it look like someone just photoshopped my hair onto my head?
Top Middle Left.: woah tan. that was actually a real tan too. the hair isn't too bad.
Big picture with red solo cup: oh college. how i spent 4 years looking exactly like this.
Top Right: i guess i was cute, but what's with the headband? do you remember those scarf headbands?
Middle Left: i was just way to into my crimper.
middle middle: i like to think i perfected the poof after a solid 3 years of attempting to do so. college.
middle right: some what normal. very pastey white though.
bottom left: i would like to call this my "devil wears prada look". i took a picture of anne hathaway to the salon, i come out like this. ew.
bottom middle: me attempting to grow my annie bangs out and this is what you get. a big giant blob of hair looking like side bangs x 2.
bottom middle: i dont know what the hell this look is. i do know that i have insanely huge muscles.
bottom right: look at that side bang. looks sexy, doesn't it? how about that belt?
personally, my favorite is the "snake" look. can you guess which one (or two) it is?
if you need a hint, it's the photo with the big red solo cup hanging out of my mouth, and that sparkly-stretchy belt making an appearance in my "going" out outfit... you know to a hockey house party obviously.
keeping it classy, i know.